Resolving to get America Outdoors
Assuming that the popular interpretation of the Mayan calendar is wrong and that we will live to see another year, I am preparing my New Year's resolution. I pledge to get myself and the people I love outdoors more in 2013.
I still have a few days left until my resolution kicks in, so I will take that time to reflect on the progress made this year to advance access and opportunities for America to experience nature. In the spirit of Santa, I am also making a list and checking it twice. I'll start with the nice.
NICE: First Lady Michelle Obama for releasing a video encouraging kids and families to get outdoors. Kids need sixty minutes of physical activity each day to stay healthy. "One of the most fun ways to get moving is by exploring America's Great Outdoors. No matter where you live, there are places near you to get out and get active," said First Lady Michelle Obama. "The great outdoors is America's first and best playground."
NICE: The White House for holding the first ever Summit on Environmental Education and establishing an inter-agency task force on environmental education.
NICE: The Western Governors' Association for establishing the Get Out West! initiative to encourage greater connections between kids, families and nature across western America.
NICE: New York City for unveiling America's largest urban campground at Brooklyn's Floyd Bennett Field and providing access and opportunities for millions to get outdoors.
NICE: The American people for overwhelmingly supporting our parks, refuges, forests and other green spaces according to a poll conducted by The Nature Conservancy. The same poll also found that voters are starting to take notice of the growing divide between children and nature.
NICE: The outdoor recreation economy for helping to support 6.1 million jobs, according to theOutdoor Foundation's annual outdoor recreation participation report. That same report found a modest increase in participation levels among 6 to 44 year olds. While the overall trend is still down, the report shows that we might be starting to reverse the growing divide between people and nature.
NICE: Sierra Club volunteers for establishing three new Inner City Outings groups bringing the total to 52 groups across the country each connecting kids and youth to nature in their own unique ways.
NICE: The Sierra Club Outdoor Activities Training Program also makes the list for engaging and empowering dozens of new volunteers to become outdoor leaders, including members of the military and veteran communities.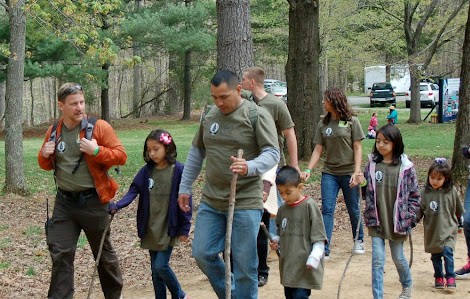 NICE: Sierra Club Local and Inner City Outings volunteers, military veterans and seventy-five high school students from Baltimore for joining Sierra Club, the Outdoors Alliance for Kids, the Wilderness Society and others in Washington, DC, during Great Outdoors America week to talk with EPA Administrator Lisa Jackson, Congressman John Sarbanes and many other members of the Administration and Congress about the importance of connecting people and communities with the outdoors.
NICE: All of you for sharing ideas and opportunities to connect people with nature in the comments section below!
NAUGHTY: GOP for blocking passage of the Veterans Jobs Corps Act which would have supported conservation and other employment opportunities for veterans on our public lands.
In the spirit of the season, I have decided to keep my naughty list short. This holiday season, let's reflect on the advances we are making to connect people with nature. Let's give the gift of nature to our friends and families over the holiday and resolve to help get America outdoors in the New Year.